Products
PRODUCT
MICROMAX Cordless Prophylaxis Handpiece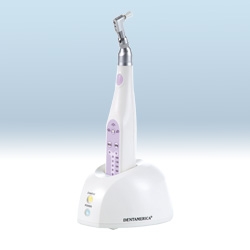 Sale time
DESCRIPTION:
Cordless convenience offers complete portability.
Heavy-duty high torque motor.
Forward/reverse functions.
Reciprocating setting available without use of additional attachment.
Five rotations speeds available for advanced polishing and protect enamel.
Ergonomic design provides comfort and easy operation.
High capacity lithium-ion battery provides stable and prolonged usage.
Offers quick and easy coupling.
Low battery warning light.
Four different heads provide.
Specifications: 100-240V AC 50/60Hz
Dimensions: L29 x W26 x H192 mm
Weight: 150g
Accessories: Charging base, Handpiece, Power Cable
Order No.177401